5 Tips on how to reduce bounce rate

April Gillies
If you read the title and thought "Bounce whaaat?", then let's take it from the top.
What is website bounce rate?
A website's bounce rate is the percentage of visitors that land on your website and decide to leave before viewing a second page. To put it simply, the bounce rate calculation used by Google Analytics and other web analytics websites looks like this:
Total number of one-page visits ÷ total number of entries to a website = bounce rate.
What is a good bounce rate?
Generally, for website traffic, anything under 50% bounce rate is considered a "healthy bounce rate" and once it starts creeping (or spiking) above 50%, it could signify that there is an issue with your website.
For example, if guests consistently walk into my pub and then leave within the next few minutes without ordering anything or even picking up a menu. This would be considered a high bounce rate and could be for several reasons but a good place for me, the owner, to start would be looking into areas for improvement Is the bar sticky, could they find the menus, is it time for the beer-soaked carpets to have a deep clean, am I advertising something that I don't actually provide? These are all valid reasons for why a potential customer would quickly leave a pub and not consider coming back.
Let's leave my dream of owning a pub on the mantelpiece and return to your website.
In website terms, a high bounce rate could be a red flag that there are technical issues like a broken page (404) or misleading redirect (301 or 302) or it could be your website speed. Statics have shown that if a mobile user has to wait longer than 3 seconds for a page to load, 53% of them will leave the site*. A high bounce rate from organic traffic could also mean that you need to revisit your website design, structure, content and user experience.
High bounce rate = Bad, Low bounce rate = Good?
For the most part, yes, absolutely! In some cases (it's risky), no. For example, one of our clients recently ran a very competitive PPC campaign targeting huge brands in their industry. The bounce rate for these campaigns was well above what we would consider healthy, 71%, but the goal of this campaign was to have our client to show whenever someone typed in their competitor's name and thus increasing their brand awareness. Which the campaign did and also brought in a good number of conversions from the users who didn't bounce.
Now, you clicked on this post for 5 ways to reduce your bounce rate, so I'll get back on track. If you have a consistently high bounce rate, this could seriously damage your rankings on search engines and any fixes you can make to remedy this should be made as soon as possible. Without further ado, here we go:
5 Tips for Reducing Bounce Rate
Website Health Checks
Do a monthly website health check, look for broken pages, redirect chains, unoptimised images and anything that could be slowing your website down and damaging your user experience. If you haven't done a website health check in a while, then a full website audit is in order. These are a little bit like going to the dentist, you know there's a problem, and it's hurting you, but it doesn't feel good when someone points out what's wrong. Put those feelings to the side, these website changes are for the best, and both you and your customers will appreciate it.
Here's a free tool that will give you a brief overview of your website's health: seoptimer.com
Mobile Optimisation
Is your website optimised for mobile users? There's nothing quite as frustrating as landing on a website with text so small it's unreadable and buttons… where are the buttons? Traffic from mobile will usually have a higher bounce rate than desktop, users are busy and on-the-go, they don't have 10 seconds to waste waiting for your page to load. There are numerous ways to improve your website for mobile, and we'll cover that in a separate blog (stay tuned). In the meantime, try this free tool from Google to check if your website is mobile friendly.
Relevance
Target keywords that are relevant to what you provide. Don't target keywords because it will bring more traffic to your website. If you optimise and advertise that you provide a service or product that you actually don't, users will bounce. Keep your ads and other methods of clickbait relevant and always give users a way to receive what you advertise and optimise for. How frustrating would it be if this blog about campaign strategies with high bounce rates that are worth the risk, but kept the title "5 Tips on How to Reduce Bounce Rate"?
Engage
When I think about engaging users, this gif always comes to mind: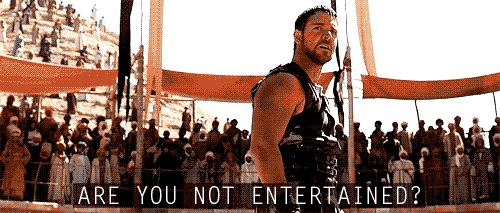 The goal is to keep users engaged and clicking through your website, ideally following a conversion pathway. One great way to do this is by interlinking and adding buttons with call to actions to your main landing pages. Other ways to engage with your users is by adding relevant videos, resources, chat boxes, quizzes and even games when relevant. User engagement and, when relevant, entertainment is key to reducing your bounce rate.
Design and UX
Design your website with your target audience in mind. Ask yourself what website templates, colour schemes and vocabulary will resonate with them and design your website accordingly. There are online tools you can use to analyse how users interact with your website. For example, maybe they go to a certain page and expect to find a service or solution that isn't there, so they go back to the homepage or leave the site. It's crucial to identify these pages and improve them to keep your target audience from bouncing. You can also run surveys on your website, asking users how their experience on your website was.
Get in touch
Here at Edson Evers, we have a team of digital experts that is passionate about all things, yes you guessed it, digital. We take pride in helping our clients win more business, whatever that means for our individual clients. Whether it is reducing bounce rate, website optimisation, PPC and paid media campaigns or conversion optimisation, we can help! Get in touch with us to find out more and start reducing your bounce.
To find out how we can help your business, give us a call on 01785 255146.
*https://www.machmetrics.com/speed-blog/average-page-load-times-websites-2018/
23rd June 2020
International Women in Engineering Day 2020
We at Edson Evers, are very lucky to be able to work with a range…
Read More